"Love in the '40s When Mail Came Twice a Day"
By Vivian Kline
Did you write  love letters when you were younger?  Get any? Save them? 

Viv did. They were from Danny who wrote and saved hers too. Tied together in their envelopes affixed with three cent stamps, they sat in a cardboard   box  for 68 years.  Now  you  can  read  their intimate story and get a birds eye view of the war years in America.
Available on Amazon now!
And on the Kindle too!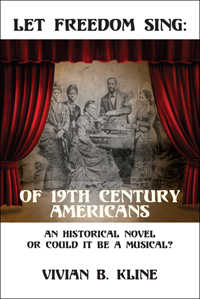 WINNER OF THE NAACP CINCINNATI BRANCH INNOVATIVE, EDUCATOR, WRITER AWARD !
...joining "a roster of distinguished community leaders and champions for
social justice and equality of all citizens."

When a class in Cincinnati, Ohio, hopes to make a musical about nineteenth century Americans, they begin by reading autobiographies from the period. They choose a group of young black ex-slave singers, and follow their progress as they move from Tennessee to New York, singing in churches to raise money for their school, destined to become Fisk University. Their white chaperone Susannah becomes the heroine of the journey, as she meets a cast of characters which include Nicholas Longworth, Horace Greeley,P. T. Barnum, Mary Todd Lincoln, Frederick Douglass, Robert Duncanson, Susan B. Anthony, Vicky Woodhull and many others. Letters between Susannah and her good friend, Maria Longworth, in Cincinnati, along with entries from the diary of Ella, the black pianist accompanying the singers, provide a great picture of the 1860s and 70s. The Cincinnati students have done a lot of homework. But will it make a musical?

This work is an upbeat book of 260 pages and good for high school classes in American History, Black History, and Women Studies classes. Or just for a good read in general!

Want to This e-mail address is being protected from spambots. You need JavaScript enabled to view it ? (click link)